Progress Recap: A Look At UniFarm in March 2022
We've successfully completed the first quarter of the year, and we hope that you're succeeding with your investment at UniFarm.
In your March roundup from UniFarm, we'll make sure you're able to keep track of all things that happened in the last month.
Let's get started with our monthly recap of March…
UniFarm Mascot
We're glad to introduce you to our newly created Mascot for UniFarm.
While we were in a fix about whether to go with this BULL as our mascot or not, we needed your help to cast a vote for the same.
And you loved it. We're so thankful for your support.
International Women's Day
Women are always a source of inspiration, the epitome of courage and patience. International Women's Day is focused on celebrating the achievements of women all around the world.
Our superwomen had some quality time together on the occasion of International Women's Day.
Besides, we ran a creative campaign on this special occasion where people shared the pictures with the women who inspired them in their lives.
And we gifted them back with an 8-bit art.
Here's what one of our superwomen had to say about women's rights in workplaces.
UniFarm Cohort 36 with Host of Benefits
With every new announcement, we're pleased to bring new investment opportunities your way.
Our most recent Cohort — UniFarm Cohort 36 — is currently live on BSC Network with 4 uber projects including SpaceSwap ($MILK2), BattleVerse ($BVC), NFT4Play ($4PLAY), and UniFarm ($UFARM).
Benefits of staking in Cohort 36 –
Users got the allocation for GameYoo IDO at UniLaunch.
Everyone got FREE NFTs for staking in the cohort.
Read More: How to Calculate APY for 180 Days?
GameYoo IDO at UniLaunch
After going live with UniFarm Cohort 36 with 4 top-tier projects, we shared our official announcement about giving an open chance to everyone to get whitelisted for GameYoo IDO at UniLaunch.
A lot of people could reap the advantages of becoming early investors of the platform.
DCD Ecosystem IDO at UniLaunch
UniFarm Launch has been a great success since our first IDO with BattleVerse. The response that we received has been amazing.
We had our 2nd IDO with GameYoo which is currently live. Everyone who's staking in UniFarm Cohort 36 had a chance to get whitelisted for this IDO.
And then we announced our 3rd IDO at UniLaunch.
We received a total of 4414 entries from the gleam campaign for the whitelisting of this IDO.
Wizardia IDO at UniFarm Launch
We ain't on a break!
UniFarm is steroids for your project and leaves no stone unturned in making that good first impression that it deserves.
After 3 successful IDO launches with BattleVerse, GameYoo, and DCD Ecosystem, we're thrilled to announce our next IDO with Wizardia.
UniFarm Master AMA
We're always on the lookout for projects that are disrupting the industry with their unique solutions. ​
UniFarm is thrilled to have organized a Master AMA session to introduce the 3 fastest-growing projects to our community.
Speakers:
In case you missed out on this amazing introduction to these innovative projects, here's the recording for you.
We Won on BitMart Voting
UniFarm has been achieving aggressive growth since 2021, with daily volume rising as more B2B clients and partners have discovered the benefits of UniFarm's powerful staking and farming solution.
UniFarm, the world's first staking and farming protocol focused solely on providing exciting investment opportunities to users, is listing its $UFARM token on BitMart, a global centralized cryptocurrency exchange (CEX). This follows its current listing on MEXC Global and popular DEXs, such as Uniswap, PancakeSwap, Dfyn, and Pangolin.
BitMart turned 4 on March 15, 2022.
To celebrate its 4th anniversary, the BitMart team invited UniFarm and a few more quality projects to join their vote for the listing program.
The voting period lasted from March 21, 2022, to March 25, 2022.
We needed 500 votes to win, and we received 650+ votes.
Thanks to everyone for believing in the project.
While we won in the voting system on BitMart, the listing is still in the process. We'll keep you posted for the same on our Twitter handle. Make sure you hit the follow button.
Partnership with MAP Protocol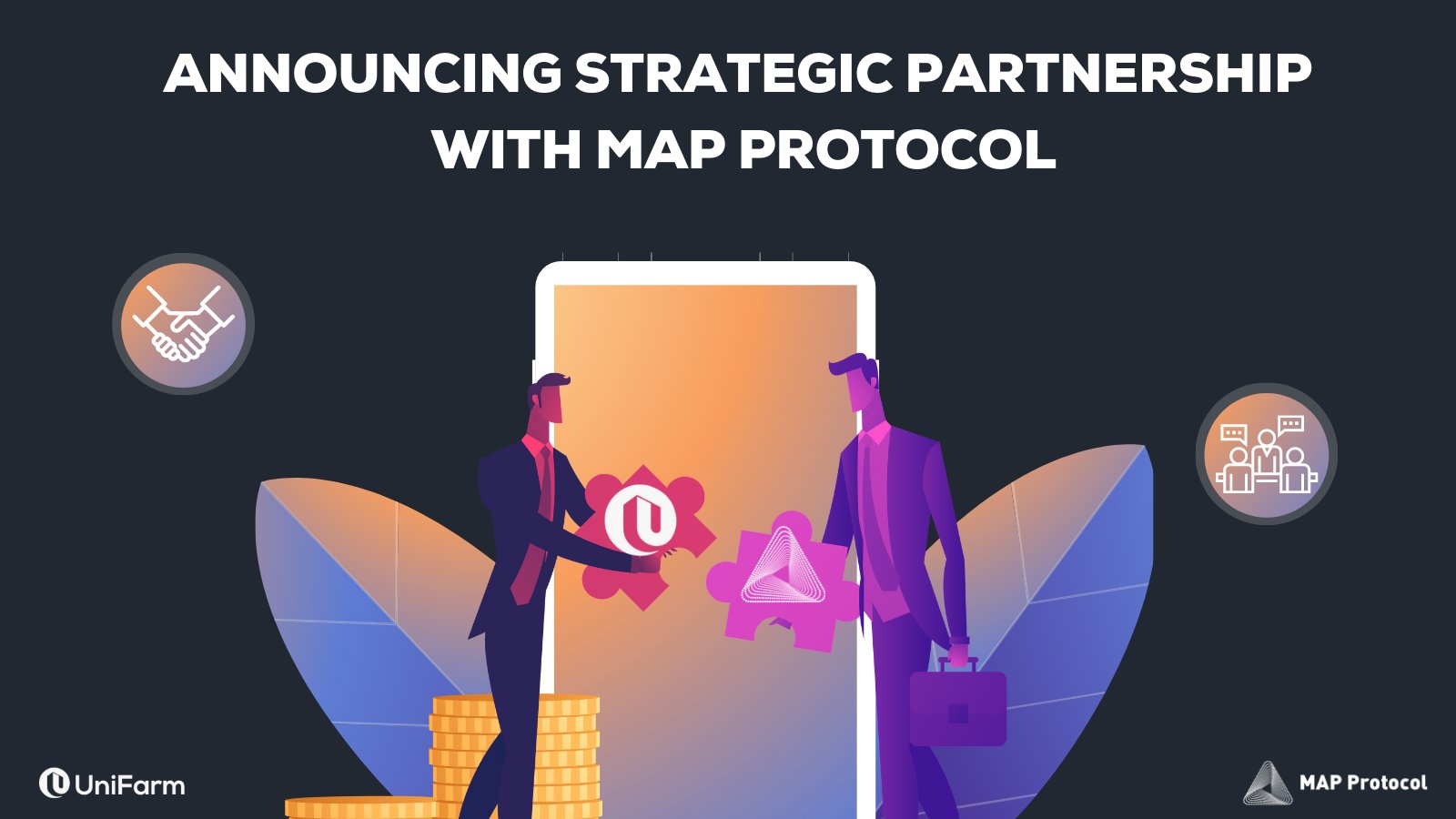 UniFarm had a strategic partnership with MAP Protocol to secure and move blockchain exchange assets.
We cordially welcome MAP Protocol into The Future of Farming to give strength to UniFarm with their 3 layer blockchain solutions.
Partnership with RAGE.FAN
UniFarm and RAGE FAN today announced a new partnership. This partnership would add new utility to the $UFARM token. Also, this would provide UniFarm holders with exposure to RAGE FAN's fantasy games and quizzes and a chance to win from a reward pool.
Besides, you can earn $UFARM tokens by playing Hypercasual Games on RageFan mobile app.
OpenDeFi merges into UniFarm
There's nothing like an explosion of UniFarm news to leave you thinking, "there's so much happening over here."
That's the feeling we've been experiencing ourselves lately.
It wasn't long ago when we went live with UniLaunch – a launchpad for DeFi's most innovative projects.
And then we released another BIG news of the quarter.
UniFarm has stepped into the NFT world by absorbing a well-known NFT Platform "OpenDeFi" to create a single ecosystem offering services like staking, lending, borrowing, AMM, along with NFT, Metaverse, etc.
Following the merger, UniFarm's co-founder, Tarusha Mittal, went live with Coin Crunch to share what the future holds for the project.
UniFarm Officially Supports BitKeep Wallet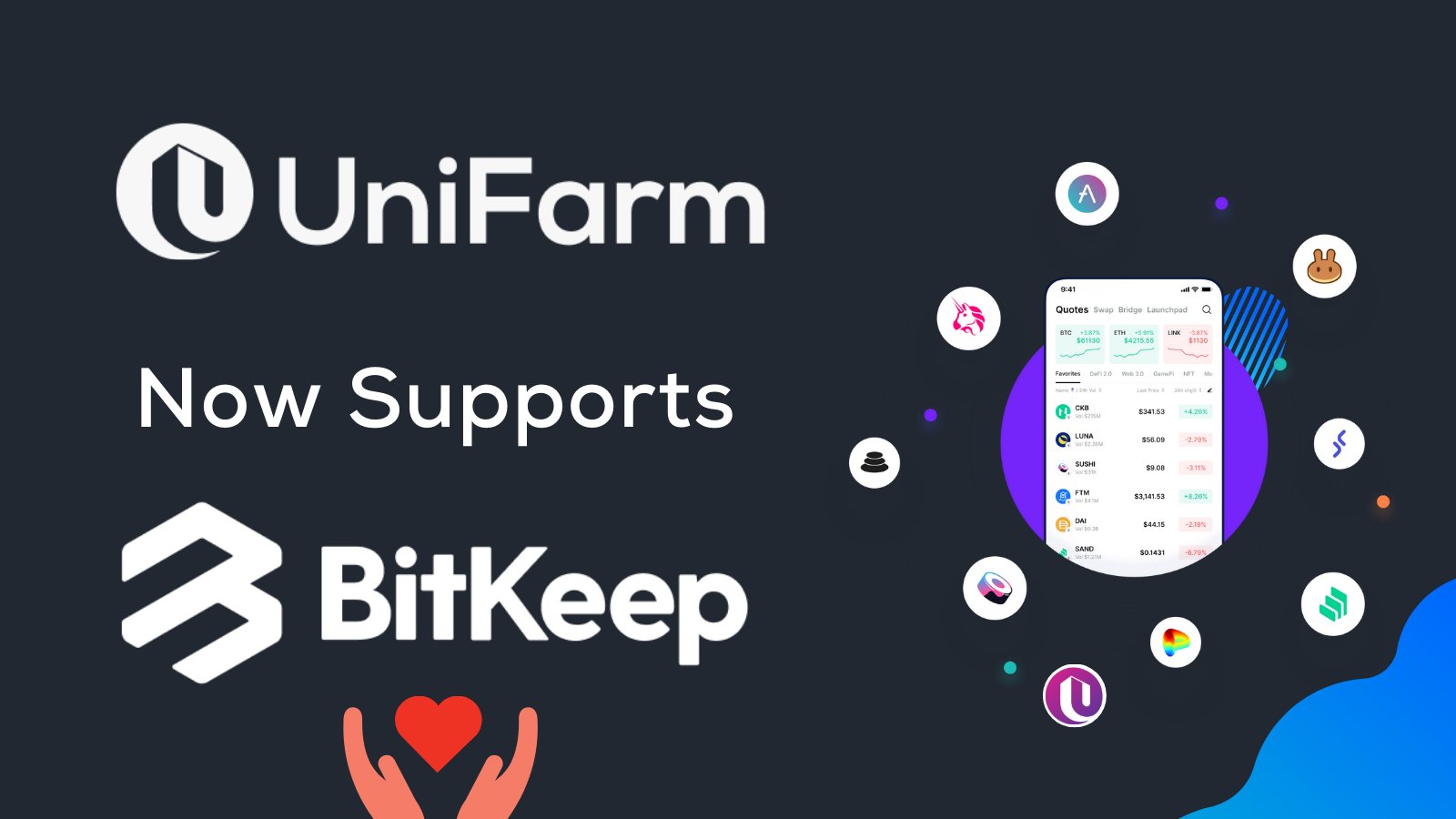 BitKeep is a decentralized multi-chain digital wallet, dedicated to providing safe & convenient one-stop digital asset management services to users around the world. Currently, there are nearly 5 Million users covering 168 countries for this wallet.
Now, you can use this wallet to stake your favorite tokens on UniFarm.
UniFarm BullsHit Fellowship Program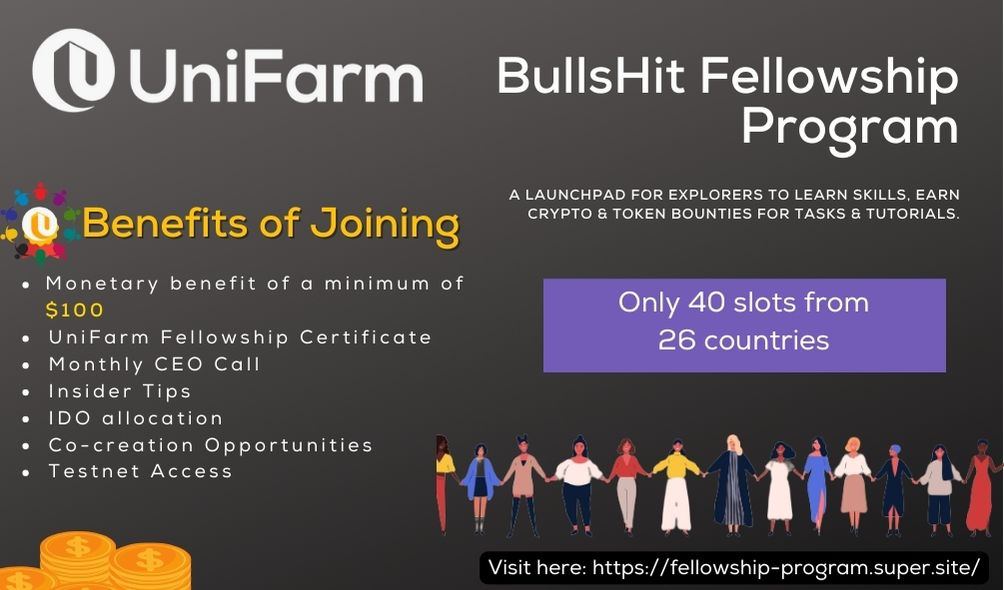 UniFarm is glad to introduce you to our brand new "BullsHit Fellowship program." This will be a one-stop shop for all crypto explorers looking to acquire new skills, earn crypto & token bounties and participate in tasks and tutorials.
This program is a mix of an ambassadorship and a fellowship program, with 40 limited seats from 26 countries in its inaugural phase.
If you'd like to be a part of this program, click the button to fill out the short form.
Note: Your selection is determined by how you fill out the form.
Closing Thoughts
Hope you enjoyed keeping track of all things that happened in the month of March. Stay tuned, a lot is underway for April!
---
UniFarm is a one-of-a-kind staking solution where the best projects in DeFi space come together to provide value to investors. UniFarm allows you to stake one token but earn multiple high-value tokens, so in addition to a great APY, your returns are automatically diversified as well.
I pen down crypto thoughts.