Progress Recap: A Look At UniFarm in February 2022
UniFarm is here again presenting a refreshing view of February month.
With this new monthly update, we will be sharing the development updates for all you restless loyal supporters and followers.
Firstly, we are heavily invested in our work ethic, and the actual results are starting to bear fruit. The main categories we've been upto throughout the month are as follows.
Tarusha Mittal at The Tech Panda
Since quality education is one of the fundamental rights of every child, The Tech Panda invited industry experts from the EdTech sector to comment on what Indian Finance Minister, Nirmala Sitharaman, had proposed in the Union Budget 2022.
Our co-founder, Tarusha Mittal, along with many industry experts, was invited to the virtual event. This is what her views look like on the topic:
"No country can have a bright future without a strong literate population. I would like the Union Budget to continue its focus on the Indian education system in terms of both literacy and employability. The budget should also pay more attention to the allocation of funds to propagate financial literacy in the country."
Crypto Session with Founders
UniFarm started a new initiative to help people learn about cryptocurrency and the technology behind it.
UniFarm's "Crypto Session with Founders" is a live, virtual event that decodes some of the most important topics shaping our economy.
We had an intriguing session with UniFarm Founders, Mohit Madan and Tarusha Mittal, who explained how the transaction is happening on different blockchains.
Here's the glimpse of the session:
Sign up with the form below, and check your inbox for the full video session.
UniFarm Conclave: Metaverse, Market Trends & Malware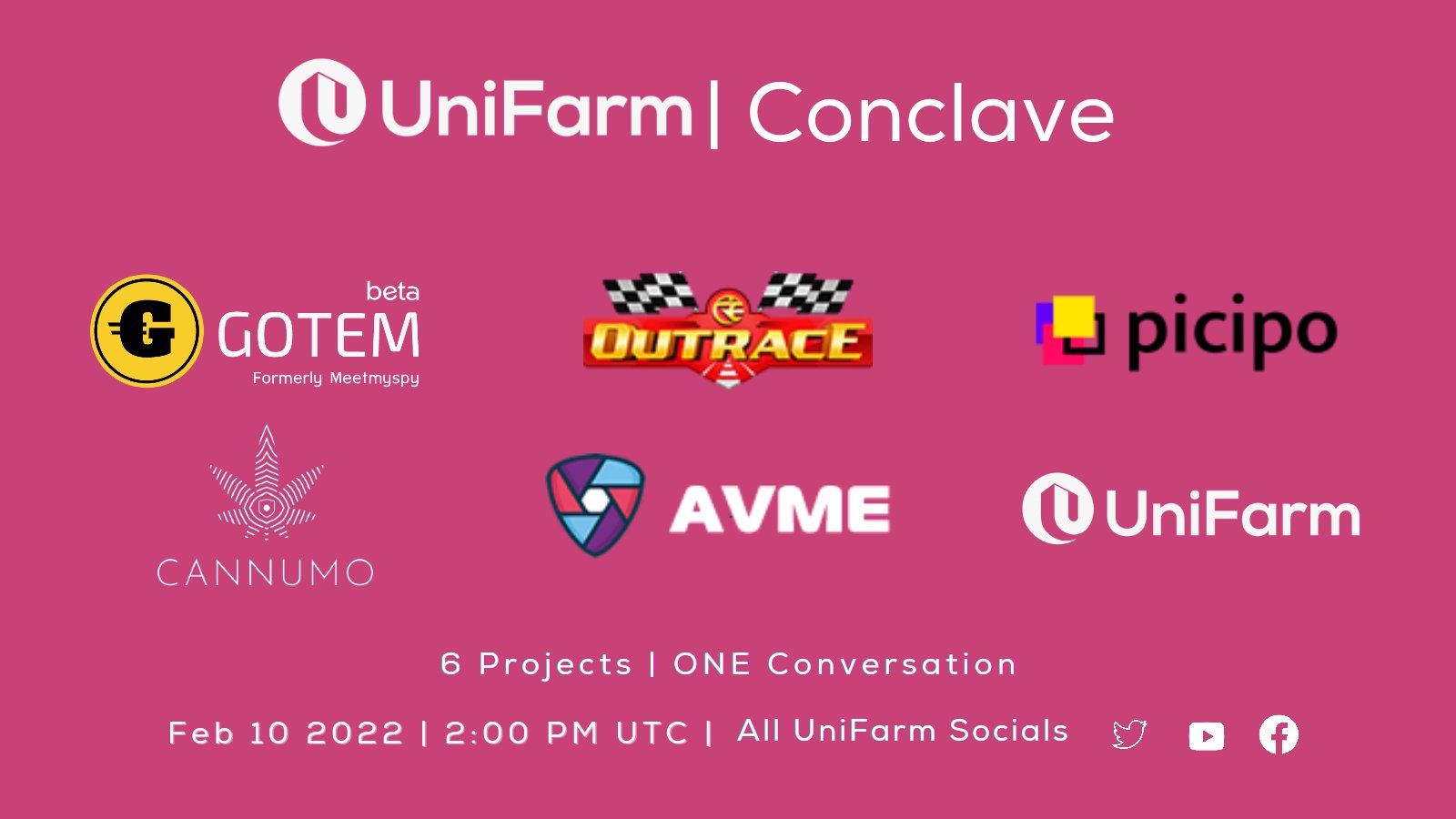 UniFarm Conclave is an initiative to break down the most popular topics of the industry and impart knowledge to our community.
This time we had an insightful discussion on the topic: "Metaverse, Market Trends, and Malware".
Speakers
In case you missed out on the live virtual event, you can find the complete discussion here:
Marketing Team Building On Momentum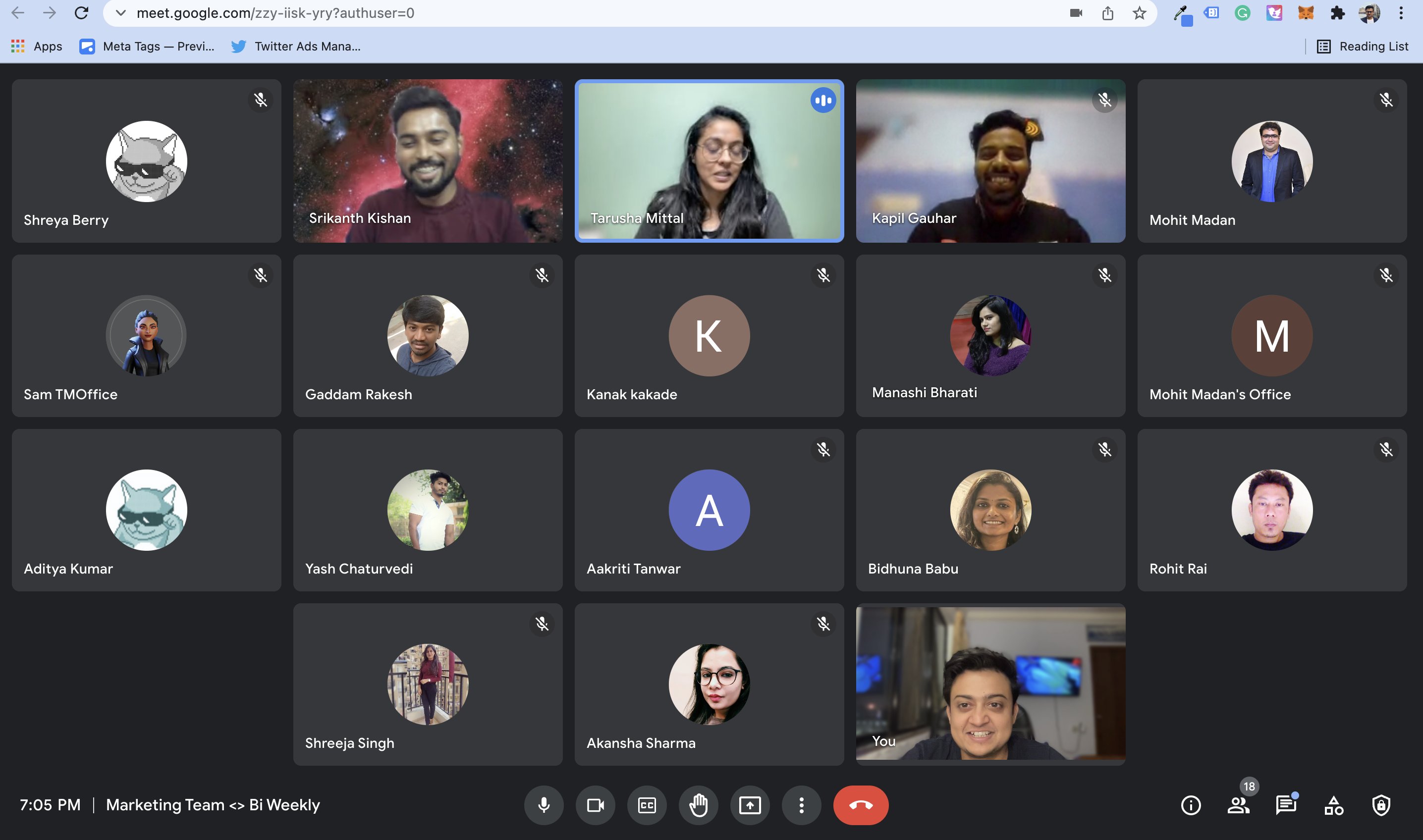 UniFarm Marketing team had a 3-hour long meeting with our co-founders, Mohit Madan and Tarusha Mittal.
This was our brainstorming session for future developments.
UniFarm Partners With Multichain For Cross-chain Transfers
We are elated to announce that UniFarm has partnered with Multichain to enable cross-chain transfers with Multichain's cross-chain router protocol. So far, users at UniFarm had to go to different platforms to buy tokens to stake at UniFarm, and also to sell these tokens. With this strategic partnership, we aim to 'bridge the gap' by deploying a 'bridge' to accelerate cross-network transactions and make the user experience even better.
UniFarm Cohort 35
Our most recent Cohort — UniFarm Cohort 34 — is currently live on Ethereum Network. Users in this cohort are already multiplying their wealth with several ERC-20 tokens available in the pool.
This time, we went live with UniFarm Cohort 35 on Polygon Network with 5 projects.
Projects Joining UniFarm Cohort 35
First IDO at UniFarm Launch
UniFarm is always striving to provide UniFarmers with new and exciting investment opportunities.
With cryptocurrencies invading the industry every now and then, UniFarm is pleased to release UNIFARM Launch way ahead this year.
UniFarm aims to propel more innovations within the industry by creating a bridge between Web 2.0 and Web 3.0 and making it easy for users and new projects to make a mark with their first launch.
UniFarm Launch had its first, and the SUCCESSFUL, IDO with BattleVerse.
Tarusha Mittal at Crypto University
Our co-founder, Tarusha Mittal, was one of the 3 panelists at a webinar organized by Crypto University in association with CryptoTV and CryptoWire.
She shed some light on the "Fundamentals and Working of NFTs" in the real world.
Coffee with Founders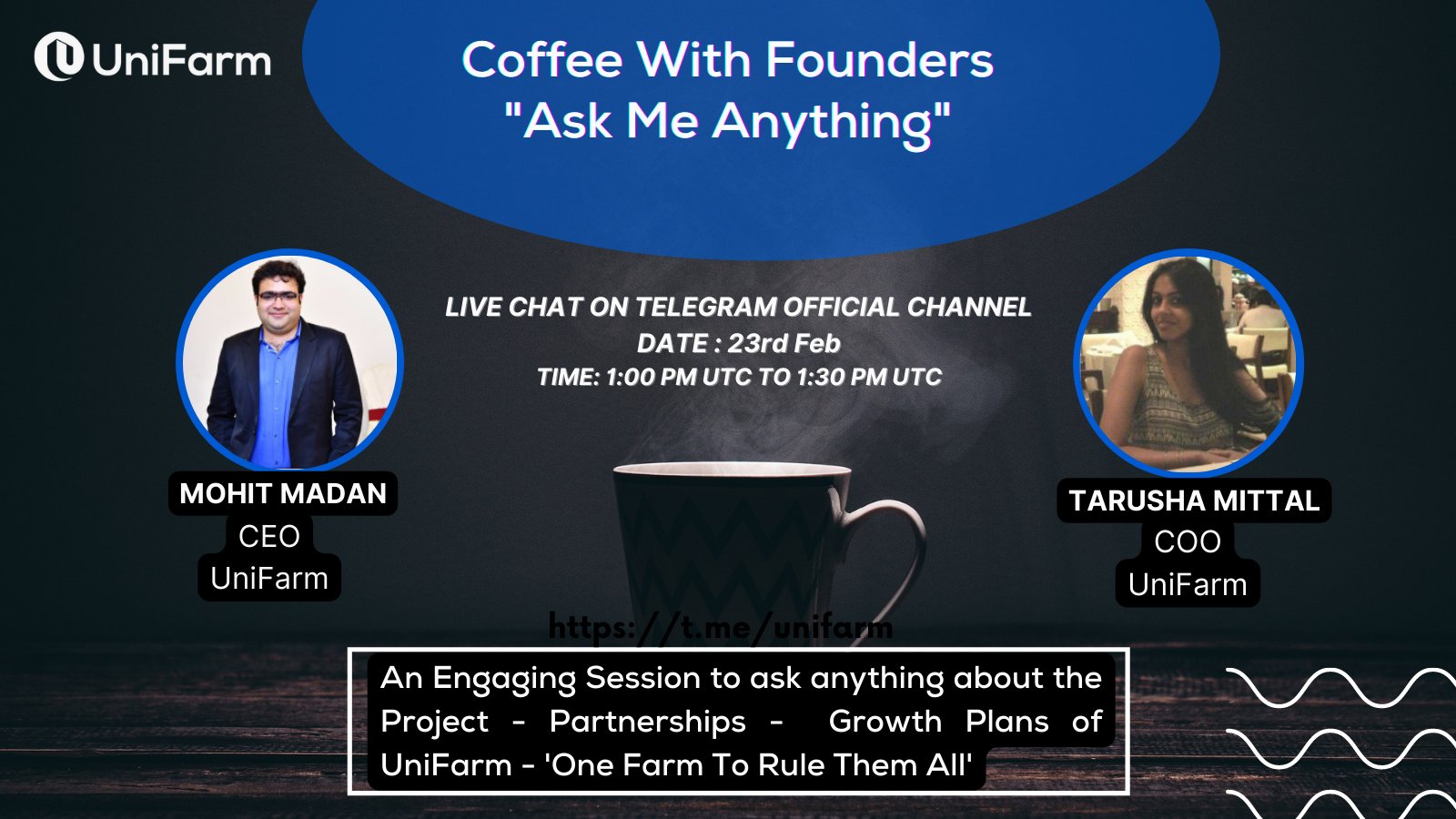 UniFarm organized an engaging AMA session with UniFarm founders, Mohit Madan and Tarusha Mittal.
The live session took place on our Telegram Channel to ask anything about the project, partnerships, growth plans of UniFarm.
It was an interesting live as our community members were engaging with our founders live, asking questions about the future developments at UniFarm.
Koffee With Kishan: UniFarm Master AMA
We're always on the lookout for projects that are disrupting the industry with their unique solutions.
​​UniFarm is thrilled to have a Master AMA session to introduce the 6 fastest-growing projects to our community.
​​Speakers
We also distributed $800 worth of rewards to those who joined us for the live session.
UniFarm Treasure Hunt
After a successful Treasure Hunt program happened a month ago, UniFarm is back again with a new HUNT that rewards more to our community.
Projects Participating in the Hunt
5 winners were rewarded with $400 worth of tokens.
UniFarm Partners with RAGE FAN
UniFarm and RAGE FAN today announced a new partnership. This partnership would add new utility to the $UFARM token. Also, this would provide UniFarm holders with exposure to RAGE FAN's fantasy games and quizzes and a chance to win from a reward pool.
Closing Thoughts
Hope you enjoyed keeping track of all things that happened in the month of February. Stay tuned, a lot is underway for March!
---
UniFarm is a one-of-a-kind staking solution where the best projects in DeFi space come together to provide value to investors. UniFarm allows you to stake one token but earn multiple high-value tokens, so in addition to a great APY, your returns are automatically diversified as well.
I pen down crypto thoughts.