6 Easy Ways to Earn Money with Cryptocurrencies
Who doesn't want to earn money without even lifting a leg? What if we told you that you can have that now. The idea to earn money with cryptocurrency may be hard to digest for some people. But you have to believe the numerous success stories of people becoming rich by using their cryptocurrencies in different ways. There are many ways that can help you utilize your crypto assets to generate profits for you. In this article, we are presenting 6 such easy ways to earn money with cryptocurrencies. Some of them don't even need you to own cryptocurrencies. Interesting! Isn't it? 
What are Cryptocurrencies?
Cryptocurrencies are digital currencies that are stored on a blockchain and governed by smart contracts. The first cryptocurrency, that is Bitcoin was introduced in the year 2009. Since then, it has gained abundant popularity for its wide range of use cases. The fact that cryptocurrencies are unique and are completely digitized, makes them highly desirable, especially among the tech-savvy audience. The blockchain technology that supports these cryptocurrencies impart high levels of security and quick transaction features to the cryptocurrencies.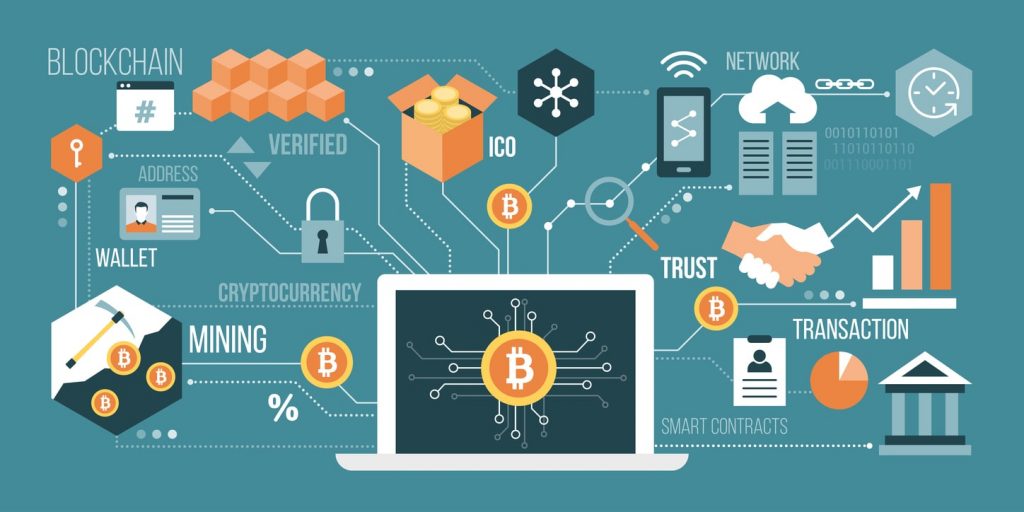 If we look at the price aspect of cryptocurrencies, we will be able to notice that the prices of cryptocurrencies are highly volatile and keep changing every now and then. Taking an example of Bitcoin, whose price increased by over 5000% since its inception in 2009, many investors are using cryptocurrencies as a way to earn money. You can find uncountable instances of people making over $20 in a day just by investing in Bitcoin and other currencies.
In addition to investing in cryptocurrencies and taking out the profits at the end of the day, there are numerous other easy ways to earn money with cryptocurrency. Let's discuss some of these ways and begin earning money. However, before you begin buying, storing, and trading cryptocurrencies, you need to learn a few things before getting started with it. 
6 Easy Ways to Earn Money with Cryptocurrencies
Here are 7 easy ways to earn money with cryptocurrency. These ways are not only easy but also, allow you to reap many monetary benefits and rewards. 
1. Staking: Our Favourite 
Staking is the process of locking cryptocurrencies in a blockchain network. Based on the number of tokens staked in the staking pool, the protocol chooses the investor to validate the new block of the blockchain network. As rewards, the investors earn the native tokens of the staking protocol. If you stake cryptocurrencies in a platform like Unifarm, you can earn many different types of tokens along with your own staking token.
2. Yield Farming
Yield farming refers to the process of lending your crypto assets in the decentralized finance protocol. Investors do that to earn passive income on the lent assets. The investors can earn APY rewards. These rewards can be farmed again and again till the investor earns maximum profits on their investments. 
3. Liquidity Mining
Liquidity mining is one of the easy ways to earn money with cryptocurrencies. Here, the investors provide their crypto assets in a liquidity pool to increase the liquidity of the pool. In return for their willingness to lend their money in the pool, it rewards the investors with liquidity provider tokens and the native governance tokens of the pool. The protocol calculates the number of rewards according to the share of the liquidity provider. 
4. Buy and Hold
Buying cryptocurrencies and holding them for a certain period of time is the most effective way of earning money with cryptocurrencies. Imagine the profits that the investors of Bitcoin must have reaped after investing and holding it for a year after its inception. However, in this method of earning money with cryptocurrencies, the investors need to be patient as well as conscious of the risks and profits appetite. Why are we saying that?
Being conscious of the risk appetite helps the investor in knowing when to enter the market and begin trading. It is because if an investor doesn't know when to enter the market and happens to invest their money at the time of high market volatility, they are likely to lose money very easily. Secondly, the knowledge of the profit appetite allows the investor to exit the market once the profits reach the appetite limit. Otherwise, it's possible for investors to fall into temptation for earning more and finally end up losing all the money.
*Please note that this method is more suitable for investors looking for long-term gains. 
5. Referrals: Easy Way to Earn Money with Cryptocurrency
Referrals are another effective way of earning money with cryptocurrencies. In this, the user doesn't even need to have cryptocurrencies to begin earning money. All they have to do is create their user accounts on crypto-based platforms and register as a user. Then you can obtain your unique referral code. You need to share the code with other non-users of the platforms and invite them to join the platform. Once a new user registers their account successfully with your referral code, you earn rewards in the form of tokens or gift cards. Almost all the crypto exchanges offer these referral programs and provide exciting rewards to the users.
6. Trading: Easy Way to Earn Money with Cryptocurrency
Day-trading is one of the most common and easy ways to earn money with cryptocurrency. More than 80% of the crypto money makers use this method to earn money in a short period of time. This is the best way to take advantage of the market volatility feature of cryptocurrencies. Due to high volatility, the prices of cryptocurrencies listed on exchanges rise and fall dramatically over a small period of time. So, the trick is to buy the assets when the prices are low and sell them when the prices increase. 
However, this method requires a lot of analytical skills and experience in the crypto market. So, the investors should begin testing the waters of day-trading in crypto with small amounts of money. In addition to this, the investors must stake only the surplus money while day-trading in crypto as there are high chances of losing money. 
Final Thoughts
We believe that the ways of earning money through crypto mentioned above are highly attractive. However, out of all the ways, staking is the best way to earn money with cryptocurrencies as you get assured rewards from it. All you have to do is stake your assets and reap benefits in the form of multiple types of cryptocurrencies. If you stake your currencies at Unifarm, you get a minimum of 36% APY rewards. 
A passionate writer, seasonal poet, and feminist, I am trying to wrap my head around all the topics under the sky. You can often see me talking about crypto, social issues, traveling across the globe, how I am trying to change the world, and how you can be my ally!